Alligned Ovens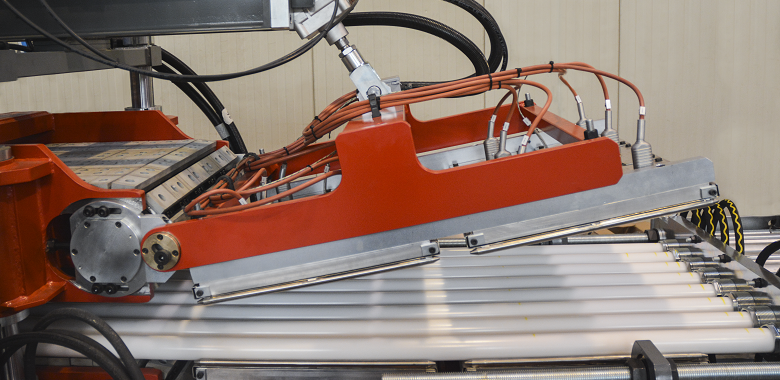 Our annealing ovens are mainly used for the production of sheets and are assembled on the plant before the saw is installed.
They can replace stabilization in a static oven for some kinds of products thanks to their versatility in length and width and according to the plant depending on the necessities at hand.
The aligned stabilization is necessary to guarantee a reliable automatic cut of the sheets, especially for lines with unattended operation.
Our stabilization ovens are composed of one or more thermal regulated areas and of a controlled cooling area of variable length at the client's discretion.
The employment of aligned ovens remarkably increases the quality of the products and in many cases allows to considerably reduce logistic expenses in your production plants.
In addition to stabilization ovens, we also build compact ovens to usually assemble aligned between the calibration and the puller, which, not having the same effect as a stabilization oven, allow to reduce the product's tensions during cooling, improving the cutting phases and avoiding damages to the stressed material. This type of oven can also be used on plants for the production of rods or of perforated rods.
We also build ovens for large-diameter rods ( up to 450 mm ) for single-output line.
| MODEL | WIDTH | LENGHT |
| --- | --- | --- |
| O-03/05 | 320 | 500 |
| O-03/10 | 320 | 1000 |
| O-06/05 | 625 | 500 |
| O-06/10 | 625 | 1000 |
| O-08/05 | 800 | 500 |
| O-08/10 | 800 | 1000 |
| O-10/10 | 1000 | 1000 |
| O-12/10 | 1250 | 1000 |
| MODEL | WIDTH | LENGHT |
| --- | --- | --- |
| A-03/06-15 | 320 | 600 + 500 |
| A-03/08-20 | 320 | 800 + 2000 |
| A-06/08-20 | 625 | 800 + 2000 |
| A-06/10-30 | 625 | 1000 + 3000 |
| A-10/12-30 | 1000 | 1200 + 3000 |
| A-10/15-40 | 1000 | 1500 + 4000 |
| A-12/12-30 | 1250 | 1200 + 3000 |
| A-12/15-40 | 1250 | 1500 + 4000 |
| MODEL | MAX DIAMETER |
| --- | --- |
| MRO-08 | 200 |
| MRO-12 | 300 |
| MRO-18 | 450 |